Claudia Mitchell and Jacqueline Reid-Walsh's Girl Culture: An Encyclopedia (2008) gives us a nice working definition for the 'career romance:'
. . . a category of girls' series fiction featuring a young female protagonist making her way in the world in her chosen profession.  Chiefly published during the 1930s through the 1960s, the novels were marketed as having both entertainment and instructional value for adolescent girls considering possible careers.

A typical scenario involves the heroine's graduation (from high school, vocational school, college, or graduate school) and subsequent relocation to a new town for a first job.  This is followed by a sequence of professional and romantic trials, all of which are overcome for a picture-perfect ending, complete with a job promotion and a marriage proposal.
Indeed, in many of the examples of 'career romance' novels I examined, it is specifically stated, or at least heavily suggested, that the female protagonist would continue working in her chosen field after marriage . . . though definitely at a lower 'rung' than her soon-to-be husband, and possibly not forever (read: until babies come along).  As Gail Collins describes in her book, When Everything Changed: The Amazing Journey of American Women From 1960 to the Present, the reality of most women's experiences would be a brief career followed by "retirement" to wifely duties:
Employers happily took advantage of the assumption that female college graduates would work for only a few years before retiring to domesticity.  They offered up a raft of theoretically glamorous short-term jobs that were intended to end long before the young women would begin to care about things like health care or pensions or even salaries.
Through an examination of 12+ examples of the genre, a few other motifs/narrative patterns can be identified:
Often, the protagonist makes one (or more) new female friends/roommates that help her navigate the emotional ups and downs of her new environment;
There are usually one (or more) career set-backs that the protagonist must overcome;
The protagonist's attraction to her love interest is often based on an admiration for his ambition and passion in his chosen field (which sometimes is the same as the protagonist's);
When the protagonist and her intended are in the same career field, the potential for the woman's working after marriage is higher, perhaps because of simple logistical concerns or perhaps because her beau has a more intimate understanding of the appeal of the field;
Pace accelerates sharply in the last chapters, with the proposal either only a few pages from the end or on the very last page of the book;
There is often an understanding that the engagement will be a longer one as the man pursues the financial stability necessary for him to be the breadwinner for a family.
Another interesting pattern that emerges over a chronological examination of examples of the genre is the very lack of a clear trajectory as to how women's work-life balance is depicted.  In some of the later examples (A Business in Pets), protagonists easily and dispassionately give up their career for the domestic sphere.  In other, early examples (Tune In For Elizabeth), it is either implicitly understood or explicitly stated that the protagonist will continue her career after marriage with the full support of her future husband.
Let's take a closer look at some of these "career romance" novels.
Content warning: the books below are a product of their time and include varying amounts and degrees of racist language and situations.
Examples of the genre (in chronological order):
Sue Barton: Student Nurse by Helen Dore Boylston (1936)
This first novel in a series (seven in total) that ran between 1936 and 1952 introduces readers to eighteen-year-old novice nurse, Sue Barton, who has recently moved from her small town to train as a nurse at a New York City hospital.
As with other examples in the genre (Joan Palmer: Policewoman, Tune In For Elizabeth, etc.), Sue Barton is written by an author with direct experience in the field.  Helen Dore Boylston attended Simmons College for a year before beginning nursing studies at Massachusetts General Hospital.  After her graduation in 1915, Boylston served overseas during World War I with the Harvard Medical Unit.
The Sue Barton books are not strictly autobiographical (Boylston never married, for example, and was quoted saying, "Sue is not me! I made her up, lock, stock and barrel. She is the kind of person and the kind of nurse I wished I were, and I had a lot of fun creating her.").
In the course of her work, Sue meets Dr. Bill Barry, to whom she will become engaged by the end of the second book in the series, Sue Barton: Senior Nurse.  However, Sue doesn't marry Dr. Barry, despite his impatience, until the beginning of book five, Sue Barton: Superintendent Nurse — by which time she has begun working to train other student nurses.
In the sixth novel, Sue Barton: Neighborhood Nurse, Sue retires from nursing (seemingly permanently) to raise her three children and baby on-the-way.  Sue only goes back to work in the final novel, Sue Barton: Staff Nurse for a brief period to support the family while Dr. Barry is recovering from TB.
Boylston, Helen Dore. Sue Barton, student nurse. Little, Brown & Co., 1936.
Books on Wheels: Opportunities in Library Work by Mary R. Lingenfelter (1938)
Part of the Kitson Careers Series, edited by Harry D. Kitson of the Columbia University Teachers' College, Books on Wheels is the most explicitly vocational of these selections — with a list of ALA-accredited schools at the back, as well as a glossary of terms and a bibliography for further reading on careers in libraries.  Author Mary R. Lingenfelter is a librarian herself at said college.  As Kitson describes Books on Wheels:
. . . it is more than an entertaining tale; it was written with a purpose — to inform young people regarding the duties performed by a librarian, the difficulties faced, the education and training required, and the rewards that come to one who elects this profession.  The book is distinctive in that it sets forth these matters not in terms of dry statistics but in terms of the experiences of a real American girl who aspired, planned, and studied, and eventually reached her goal."
The prose is choppy throughout — with shifts in first-person narrative perspective from Barbara to David on a few occasions — and significant 'time jumps' (within thirty pages, Barbara has started and graduated from undergraduate and enrolled in a library school).  However, the detailed descriptions of librarianship (Barbara takes on an outreach position, bringing books to rural residents and promoting the library's services to reluctant tax-payers) compensates.
Law student David is one of the least supportive romantic partners in any of the examples studied:
"Look here, Babs," David growled; "what's the use of going on with these plans?"

"May I ask why?" Barbara inquired.

"Because I think we ought to marry this year — as soon as I finish law school.  I'll have a good job in Dad's office."

"And what would I do?  Spend my time playing bridge — or being a model club woman — or –"

"Making a home for me," David ventured, then sighed as Barbara shrugged impatiently.  "I'd hoped we would be off to Europe together next spring on our wedding trip; it won't be much fun going without you.  Guess you aren't ready to give up yet.  Well, I'll wait a while longer; but, let me tell you this — no man's going to hang around indefinitely."
Despite modern readers' objections, David does propose to Barbara by the end of Books on Wheels and Barbara accepts . . . later telling her boss, Miss Colton (the older, spinster figure), the news:
"Hope this doesn't mean that we'll lose you?"

"Not right away, Miss Colton," Barbara replied.  "David has sense enough to know I won't be happy unless I'm sure this work will go 

on

; and too, he's just a struggling young lawyer.  We don't want to depend 

on

 our families, so I'd like to help until he's well established.  After the county system is in full swing, and you get a new county librarian, then maybe I'll be ready to give up."

"We'll probably get an assistant for you to train in before you leave; it won't be easy to replace you, my dear," Miss Colton said, sadly.
As described by Stephanie Spencer in her examination of the British side of the phenomenon in Gender, Work and Education in Britain in the 1950s, "There are two types of single women presented in the pages of the career novels; the long term spinster, with no prospect of marriage and the 'hetereosexy' heroine and her contemporaries who, although not working as a stop gap, were nevertheless clearly not destined to remain single . . . older spinsters were constructed as 'other' to the young heroine."  As Barbara accepts David's proposal, she strongly rejects a life the Miss Coltons of the world would live.
Lingenfelter, Mary Rebecca. Books on wheels. Opportunities in library work. Funk & Wagnalls, 1938.
Carol Brant: Picture Magazine Reporter by Margit Varga (1945)
Carol has moved to New York (from her family's "summer hotel on Lake Michigan") to live with her Aunt Harriet and pursue work in the 'big city.'  Biding her time working at the New York Public Library, Carol soon gets a taste for reporting when friend Helen Mabry, who works for View, a picture magazine in the vein of Life, enlists her help identifying the unnamed nephew of the King of Abyssinia for a photograph caption.
Carol Brant is another example of the genre that introduces the reader to technical jargon of the field ("Layout room, putting six pages to bed, M.E. . . . what were all these strange expressions, Carol wondered.  It sounded like something out of Alice-in-Wonderland.") as Carol begins her career as a "CGOG" ('college girl, office girl') at View.
This example (as well as The Highest Dream) has a relatively unique romantic structure — with a heady love triangle between Carol, photographer Jim Davis, and Bob Lawrence, a fellow CBOB ('college boy, office boy') who is promoted to a full-fledged reporter.  There is even a romantic sub-plot involving Carol's Aunt Harriet and Dan Willoughby (whose proposal to Aunt Harriet ends the novel rather than one for Carol herself).
The novel ends with Carol being promoted to photo-journalist (a rare and perfect combination of her two passions!) and a sly pseudo-proposal from Jim (who refers to their future as "signing on the dotted line on a long, long contract") with an understanding that they will work together in their professional careers as their romantic relationship progresses.
Varga, Margit. Carol Brant, picture magazine reporter. Dodd, Mead & Co., 1945.
Tune In For Elizabeth by Mary Margaret McBride (1946)
Tune In For Elizabeth is another "career romance" novel that is written by a woman who has experience in her protagonist's field.  Mary Margaret McBride was nicknamed "the first lady of radio" for her popular reporting style — most notably on her 45-minute weekly show for CBS where she interviewed over 300,000 people in a twenty year program run — including such heavy hitters as Eleanor Roosevelt and Joe DiMaggio.
Elizabeth has moved to Chicago from her small town of Glendale, Illinois to accept a job at the New York Star newspaper under the recommendation of her newsman relative, Uncle Bob.  But, as she wiles away the weeks in the newspaper's "morgue" (an archive of sorts where she organizes clippings and materials related to topics reported in the paper) she harbors a secret desire to work for famed radio interviewer Janet Adams.
Reporter Bill Brett and radio-drama writer Guy Roland both vie for Elizabeth's affection — as do their respective career paths.  In fact, as Elizabeth must decide whether to make money, and gain fame, on the fast track as a radio-drama writer or stick to reporting the news (albeit on the radio vs. in print) she likewise is deciding between the two men in the novel's rather thinly-veiled extended metaphor.
Elizabeth ends the novel "engaged to be engaged" to Bill, who is finishing a tour of special service in the Pacific and plans to be assigned by the Star post-war to an international reporting post, where he wants Elizabeth to join him as his wife.  Elizabeth's initial hesitation over giving up her career for marriage is quickly handled by Bill:
"I wouldn't turn you down for the world.  I've just got to make up my mind what I want to be, Bill."

"Mere wife, you mean — or newspaper gal?  No woman who married me could settle down to being a mere wife, I wouldn't allow it."

"You mean, I could go on with my work, if –"

"Of course you could, Cary.  I'm not old-fashioned.  In fact, I'd be proud to have a wife who covered world news — even if she used a walkie-talkie instead of newsprint."
McBride, Mary Margaret. Tune in for Elizabeth. Dodd, Mead & Co., 1946.
Lynn Decker: TV Apprentice by Dorothy McFadden (1953)
22-year-old Lynn Decker has finished college and moved back onto her parents' farm while she tries to figure out which career path to follow.
How she envied her friends who knew exactly what they wanted to do!  Why did it take her so long to find something?
"'I have to get to work now, too — but after four years of college, I still haven't the faintest idea what I want to do,'" (pg 10) Lynn confesses to an old high-school friend, Edith Reilly, who is working at small, family-run TV station WSIG-TV.  Edith convinces Lynn to apply to the station in the open 'Copy Girl' position as a stepping stone to a career: "lots of people have started here in Copy before moving up . . . You learn about TV operations and how everything is put together."
As with other career romance novels, a key motif of Lynn Decker: TV Apprentice is this quest of self-discovery for a young woman just beginning to craft a life for herself independent from her family.
Much of the prose, especially in the first half of the novel, consists of heavy descriptive passages that illuminate the more technical aspects of the industry, and in many ways, the novel functions as a fictional counterpart to non-fiction career titles.  The reader is introduced to the specifics of television production through Lynn's inexperienced eyes:
"'Here on page two, you see, we begin the break-down of the entire day's program: 9:30 A.M. SO — (Sign On), and TP — (Test Pattern) — you'll get familiar with these abbreviations very quickly, Lynn,' she assured the girl, noticing her puzzled expression."
The object of Lynn's affection is Harry from the Art Department, with whom Lynn forms a relationship during the creation of their own original children's program, The Magic Pencil.  Lynn Decker ends with a proposal from Harry (after The Magic Pencil is picked up and he is promoted to art director — "enough salary to get married on!") and the implicit understanding that Lynn and Harry will continue to work together after marriage.
McFadden, Dorothy Loa. Lynn Decker: TV apprentice. Dodd, Mead, 1953.
The Highest Dream by Phyllis A. Whitney (1956)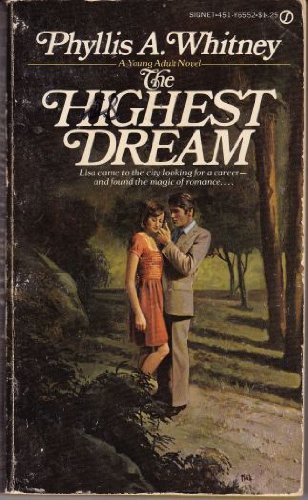 The Highest Dream is a novel about Lisa Somers — the daughter of a famous radio commentator who is desperate to make her own way in the world outside of her father's shadow.  Lisa moves to New York City to become a tour guide at the United Nations.
Kirkus described The Highest Dream as "a frothy novel" in which "readers will be far more impressed with the glamour of international life than with specific jobs and policies [of UN agencies]."  Just as Collins suggests, "theoretically glamorous" jobs such as those described in The Highest Dream would be of especial interest to young girls.
As in other examples of the genre, some of the description of said glamorous jobs involves literal glamour — an emphasis on physical appearance as a key component of a woman's career success:
The card was headed GROOMING and referred to hair, hands, and nails, pointed out that make-up should be natural looking, listed permissible jewelry — no bracelets.  Blouses must be tailored and freshly laundered — Lisa had an extra blouse hung in her locker . . . (she) noted the emphatic word POSTURE at the bottom of the list, and went out the door with her head high and her shoulder blades back.
Lisa begins falling in love with Norman, who is wary of romantic entanglements because of a complicated home life (his mother died in an unhappy marriage to his father, and his father remarried quickly afterwards):
". . . the two of them look happy together.  They like each other, don't they?"

"Why, of course," said Lisa.  What an odd thing for him to say.

He noted her surprise.  "That's not always to be taken for granted in a marriage, you know.  Sometimes I think people can love each other without any real liking at all."
Despite Lisa and Norman's admiration for Lisa's parents' relationship, The Highest Dream spends a few interesting sections on the difference between that generation and what Lisa wants out of her own marriage (which she gets, with a proposal from Norman at the end of the novel):
"I'll bet she'd be surprised to hear you say that.  And do you think she's been unhappy?"
"Of course not.  But she is her sort of woman.  I'm my sort.  That European-Asian wife may be wonderful for her husband, but isn't she frustrated when it comes to developing herself in her own right?"
. . .
An American marriage — a good one — was more of a partnership, she felt, with the woman helping to learn and develop herself as an individual, not just as a shadow born to serve her husband.  And a good part of the time she managed to be a good mother and keep a bright, clean home at the same time.  If she was sometimes too tired to run for her husband's pipe and slippers in the traditional fashion at night, she was alert enough mentally to talk to him at the dinner table and be an interesting person in her own right.
Whitney, Phyllis A. The highest dream. New York D McKay Co, 1956.
A Business in Pets by Nell M. Dean (1956)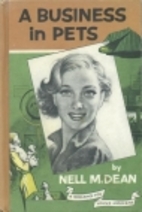 Protagonist Jan Blair isn't just starting out in her career . . . in fact, the novel opens with her signing a contract of sale for her very own pet shop (albeit on the power of a $2,000 loan from her parents in addition to her own savings).  Jan's parents have relocated the family from San Francisco to Monterey, California, where Jan's professor father will be writing his book and Jan herself has taken over a local pet shop from a retiring owner — whom Jan later discovers has been cheating his customers by selling tainted horse meat to dog owners.
Love interest Peter Hall, a local medical student, appears on page eleven, and there are no other serious competitors for her affection (though, of course, the reader is frequently reminded that Jan is attractive enough to receive other offers).
What is standing in the way of this match, however, is Peter's shame over his 'Okie' background and his financial situation.  As in other examples of the genre, Jan doesn't seem interested in Peter's career ups and downs/his financial prospects but rather is laser-focused on the romantic aspects of their courtship . . . leaving the concerns over financial stability to her man — for perhaps it would be too unattractive of a woman to blatantly display concern for such matters:
What good was financial security, even a potentially successful business, if she could not dream of marriage to the man she loved?  Sure, being a career girl was fun, but what of the future, the deeper aspects of her life?

" . . . you're going to marry me the minute I finish my internship.  And let me tell you, this marriage isn't going to be any rose-covered cottage deal.  You may be living in a dust-blown shack at the end of nowhere, sweeping sand out of the place twelve times a day.  You may be waiting up at four in the morning to reheat the dinner you fixed for me at six.  You may have to wait years for a new dress, you may never again have a hat like you're wearing now . . . "

She moved toward him, cuddling her head on his shoulder, oblivious to the fact that neighbors might see them.  "I will love it, all of it.  It'll be the biggest adventure I can imagine."
This class concern is mirrored in the romantic sub-plot involving Jan's friend Rosa, the daughter of an Italian fisherman, and Tom Browne, a friend of Peter's and fellow medical student.  Rosa, embarrassed at her family's lower middle-class home, almost misses her chance with Tom by refusing to let him meet her parents or visit her at home.
The novel ends with two proposals for those two couples.
Dean, Nell Marr. A business in pets. Messner, 1956.
Assignment in Ankara by Lucile McDonald, Zola H. Ross (1959)
Assignment in Ankara (later published under the title The Stolen Letters) is a novel about a young woman, Norma Blake, who has begun working for the State Department in their Foreign Service.  Believing that her first assignment will take her to sunny Spain, she's horrified to learn that she will instead be shipped off to Ankara, Turkey.  Author Lucile Saunders McDonald was a journalist herself – in America and abroad.  As McDonald's 1992 Seattle Times obituary puts it, "Her parents encouraged her to enter a traditional profession for women, like secretarial work, but Mrs. McDonald let them know at an early age that she intended to do the opposite."  McDonald's heroine can be described in exactly the same vein.
The prose of Assignment in Ankara benefits from some sharply witty dialogue – especially during the flirtatious scenes between Norma and Rash O'Connor, her love interest.  Norma's attraction to Rash and her ambivalence towards other men is distinctly built upon the similarity of their career paths.
When Norma's Washington roommate Betty doesn't understand how Norma couldn't be dreadfully bored with a beau who takes her to the bookstore on their dates, Norma muses:
"She'd had plenty of dates in junior college but she'd never been serious about anyone.  She wanted to meet somebody who felt as she did about seeing the world."
Subtle racist elements do somewhat date the text ("I thought all Spanish women were dark," says a restaurant cashier when Norma and her date are conversing in Spanish) as do the specifics of the political environment described.
The novel ends with a proposal from Rash and Norma planning to keep working (at least in some capacity) for the foreign service after marriage.
McDonald, Lucile Saunders, and Zola H. Ross. Assignment in Ankara. Thomas Nelson, 1959.
White Collar Girl by Marjory Hall (1959)
Marjory Hall is an author that 'specialized' in career romances (including Clotheshorse and Bread and Butter).  In a review for another of Marjory Hall's career romances, A Hatbox For Mimi (1960), Kirkus aptly summarizes the genre's popularity as a whole:
" . . . a fierce desire to emancipate herself from the monotonous life . . . the subject is irresistible to young girls"
White Collar Girl is different from others in the genre for a number of reasons . . . most especially that the protagonist, Alix Whitney, is thrust reluctantly into beginning a course of study at the Pauline Michaels Secretarial School by her parents' decision rather than her own ambition.
As might be surmised, Alix doesn't have the close and/or respectful relationship with her parents that other protagonists of the genre do ("Your father and I," Mrs. Whitney went on thoughtfully, and Alix said to herself in despair, Oh, here it comes.  One of those awful lectures").  Perhaps, as the decade was poised to turn, readers wanted more of an exploration of the small rebellions they were mounting against their parents' expectations.
White Collar Girl also has less description of the vocational classes/career specifics than most other examples examined.  Large portions of the instruction that it does have revolves around gendered instructions on 'proper' appearance (much more so than the quick mentions in books like The Highest Dream).  The following lengthy lecture is given by one of Alix's teachers on the second day of class:
"One of the most important attributes of the perfect secretary," she explained quietly, "is knowing how to dress.  Fluffy, extreme clothes are out of place in any office.  This dress I'm wearing today, for example," she went on, looking down at a neat two-piece navy cotton, "is in a way a perfect office costume.  It's dark, neat, and simple.  This white collar is of course detachable, so that it can be laundered after each wearing.  And the dress does very well without it, so that I can wear other accessories with it, and it serves me as well as though I had one more dress in my closet . . ."
With more sophisticated prose compared to other Romance For Young Moderns books and a greater depth of emotional complexity, White Collar Girl is much more about Alix's social transformation (from introvert to adept party hostess), and Alix's relationships with her female friends — especially with long-time best friend and hometown peer, Debby — are more emotionally complex than in other examples examined, and her romantic relationship is almost a side-plot rather than the main focus of the narrative.
Lynn has one main romantic interest, Glenn Hudson, but also briefly dates a fellow student's brother and an ex from her own past as Glenn's affection runs hot and cold throughout the novel — a phenomenon that isn't explained until the very end (when he proposes):
"You may have wondered why I act so crazy about you when I see you and then disappear for a while . . . Well, I'll tell you.  I'm going to be an engineer.  I told you that.  I'm going to finish at the university, and then I'm going to work for a special engineering degree.  I've got at least five years ahead of me, after this one.  Maybe more.  I knew better than to get mixed up with any girl . . .
While Lynn waits for Glenn to establish himself in engineering, she graduates from 'Polly Mike' and begins work there as a teacher.
Hall, Marjory. White collar girl. Funk and Wagnalls, 1959.
Joan Palmer, Police Woman by Gertrude Schimmel (1960)
Joan Palmer: Police Woman is another example of a "career romance" novel written by an author who is herself working/did work in the protagonist's field.  Gertrude Schimmel was the first woman to be named NYPD police chief after working her way up through the Policewoman's Bureau in the 1940s, when women were prohibited from promotions.  In 1961, Schimmel (and fellow officer Felicia Shpritzer) even mounted (and won!) a lawsuit against the NYPD's Department of Personnel for this illegal gender discrimination.
Again, here as in other examples examined (Girl Pilot), because of the later publication date and Schimmel's own personality, there is more explicit examination of gender roles — especially the tension felt between balancing fulfilling work and domestic life:
"How much, really, would the job demand of her?  How much of her personal life would she have to sacrifice?  Was any job worth the abridgment of personal freedom?  She felt vaguely uneasy.  In her daydreams of the future she envisioned marriage, a home, children.  If she could manage a career, too, all well and good.  But married to a job while off as well as on duty — no matter how attractive?  No!"
In Joan Palmer, Joan uses the friendships she creates with female co-workers — fellow novices as well as experienced policewomen — to "discuss and evaluate all the new experiences they were now sharing" as well as to feel out how other policewomen are successfully balancing work and family:
"A baby?"  Joan was taken aback.  "I don't mean to be so personal," she ventured, "and you don't have to answer if you don't want to, but how do you manage?"

"Ask away," Betty responded cheerfully.  "It's the question uppermost 

on

 a working woman's mind: can you combine a career and marriage? . . . The answer is, you have to find out for yourself.  It's a highly individual matter.  It depends 

on

 you, your husband, and the kind of job you have.  So far I've been lucky.  It's worked out beautifully for me."
As in Books on Wheels, the protagonist has an unsupportive beau.  Perhaps because of the gap in publication dates, however, the ending (to the modern readers' delight) is much different.  Joan ends her relationship with businessman Fred who says things like — "Working?  On Saturday night?  That's ridiculous!  Darn it, Joan.  You're going to have to quit that job or call it quits with me.  I'm serious." — and begins a romance with fellow policeman Vic (who understands the demands of the job and supports Joan's career development) which ends in a proposal.
What the future might hold she wouldn't venture to guess.  She hoped, with Vic's co-operation, to complete the credits for her bachelor's degree and, eventually, to be assigned to the Juvenile Aid Bureau.  But come what may, she would be happy wherever she worked in the department.  And even if circumstances compelled her to resign, nothing could ever erase the wonderful memories of these past nine months.
In her author's note at the back, Schimmel directly addresses this tension of work-life balance:
"On the subject of combining a career and marriage she says, "It's not easy, but it can be done.  The prime requisite is an understanding husband.  I have been very fortunate in this regard."
Schimmel, Gertrude. Joan Palmer, policewoman. Dodd, Mead, 1960.
Charlton Publication's Career Girl Romances (1964-1973)
In the 1964 premiere issue, careers include: professional model, airline hostess, and actress in three (very brief) stories.  Because of the constraints of visual narrative, the pace of the stories is very fast, with leaps forward in time and melodramatic interactions that substitute for subtle character development.
In Career Girl Romances, the 'expiration date' of the women's careers is palpable, and, in this way, the comics feel much more a relic of the 1930s and 1940s.
The parents of Susan (the model) stamp their approval onto her new career with the understanding that it will only be temporary:
"I know I wanted to be one when I was a girl, Jack!  I think it's what she wants, we should let her try it for awhile!"
And Marie Dillard (airline hostess) accepts her first posting with this dialogue between herself and Miss Reeves, a more experienced airline hostess:
Reeves: "Just do your job . . . and don't fall in love the first month you're airborne!"

Dillard: "I'd be a fool to sacrifice all this!  I won't even think of romance for at least ten years!  This is the life for me!"
Gina (actress) gleefully ends her story with a panel depicting her wedding to pilot Dan and the words:
"The moment his lips touched mine . . . I was certain that my career was ended . . . and a new one had just begun!  The greatest career that life can offer . . . the wife of the man I loved!"
Each issue (as well as issues of other Charlton comic series, such as Teen Confessions) also includes a text-only story feature called "Martha Marsden Meditates," which revolves around a relationship question or problem and then presents a "real situation" as a parable . . . almost a combination between a traditional 'Dear Abby'-style advice column and fictional short stories.  In the premiere issue, there is "a very important question that has to be answered" as to how much involvement parents should have in choosing their children's mates, and another on if a girl ("Ellen") should marry her beau ("Joe") before he begins his military service or wait until he completes his duty.  These questions, given that they are (presumably) real questions from real readers, are actually more complex and varied than many of the "career romance" novels and certainly than the comics themselves.
Girl Pilot by Kathlyn Gay (1966)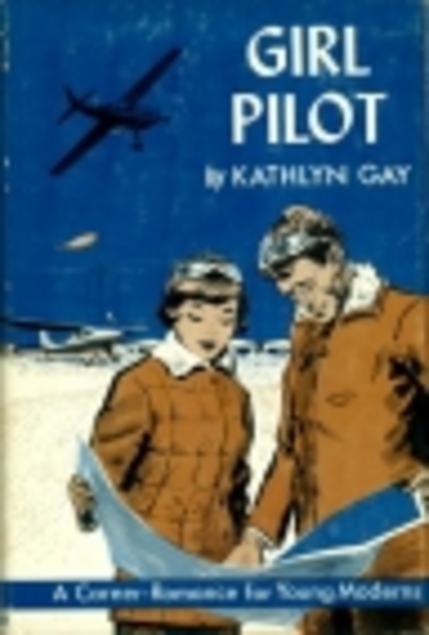 21-year-old protagonist Ellen Markham, daughter of famed pilot Jay Markham, works for Chancel's Air Service — where she provides air-taxi (transporting private passengers) and ferry services (transporting good or even planes themselves to their new owners).
As in Joan Palmer: Policewoman, the 'unusual' nature of the protagonist's career field (read: woman working in a male-dominated profession) lends itself to direct discussion of gender roles.  Ellen's friendship with Sharon, who works as "weather-checker and book-keeper" for the airport but, in contrast with Ellen, doesn't "have any desire to get her commercial pilot's license," is described thusly:
Both were delighted to find each other in this predominately male world of engines and props and flight talk.
Ellen's assessment of her boss is likewise explicitly based on his reaction to her gender:
Mr. Chancel was tops to work for.  She only hoped that someday he would respect her ability as a pilot the way he did the men on his payroll.
And her competition with co-worker Phil is based upon his distaste for her working in a 'man's world:'
I'll never be convinced women have any business in aviation.  It's a man's world.  There out to be a law to keep women in their place.
Girl Pilot has a slightly more complex narrative structure than some of the other examples examined — with flashbacks to the beginning of Ellen's career at age 16.
Ellen's relationship with FAA inspector Ben Richter follows a familiar 'they begin as enemies, tension mounts' formula, as well as a fair amount of introspection on Ellen's part as to the role that she expects romance to play in her life:
Ellen shook her head slowly.  "No — but — I just don't think about dating — that is — what I mean is, I can't take time for that sort of thing — getting involved I mean.  Not now.  I have a career that's as important to me as yours is to you.  Romance would just clutter things.  Wouldn't it?" she asked, but she was not at all sure she had made a valid point.
After an adventurous flight to Paris to deliver a top-of-the-line plane to the French Air Show, Ben proposes (not with an engagement ring — at least not yet) but with with "a miniature silver plane, with tiny glittering stones at the wing tips."
Gay, Kathlyn. Girl pilot. J. Messner, 1966.
With this mix of relatively-compelling narratives (some certainly more so than others), why was the "career romance" genre so short-lived?
Though most examples of the genre aren't exactly literary fare, literary critics Mary Cadogan and Patricia Craig's belief that the books are "no more than fictionalised handbooks in which the soft sell, the job's provision of matrimonial opportunities, is supported by the technical facts of each occupation" (Spencer) is unnecessarily harsh.
These novels were marketed to a very specific age group during a very specific period of history.
The novels were targeted at the fourteen to sixteen age group, 'overtly at those girls in their last year or two at school who are looking around for something to do' and were widely distributed into libraries and schools.  A vast majority of this age group left school rather than staying to the age of eighteen and into higher education in the years up to the mid 1960s. (Spencer)
But even as modern 'career girls' reading these novels, some of the considerations the protagonists express are eerily similar to our own.  Girl Pilot's Ellen muses:
She did think about romance and hoped it would be a part of her life.  But the right man had never been in the right place, at the right time.  She wondered if he ever would be.  A strange feeling of loneliness crept over her and she shivered.
And, as we grow older, how many think pieces and self-help books do we read about how best to simultaneously get the most out of quality time with our children and climb up the career ladder?  Maybe the modern reader doesn't so much need the 'career romance,' as it was conceived in the 1940s-60s, but rather their sequels . . . that show not the easy business of falling in love and accepting a proposal, but the complicated, heady business of maintaining those relationships — and not just the romantic ones — with all the demands placed, disproportionately, on women's shoulders.
Bibliography:
Collins, Gail. When everything changed: the amazing journey of American women from 1960 to the present.
Little, Brown and Company, 2014.
"Helen Dore Boylston: Nurse from New Hampshire." Authors and Books For Children,
web.archive.org/web/20080312160329/http://www.elliemik.com/boylston.html.
Goldstein, Richard. "Gertrude Schimmel, First Female New York Police Chief, Dies at 96."
The New York Times, The New York Times, 12 May 2015, http://www.nytimes.com/2015/05/13/nyregion/gertrude-schimmel-first-woman-named-an-nypd-chief-dies-at-96.html.
"Mary Margaret McBride, the "first lady" of radio." The Museum of Public Relations,
 17 Nov. 2015, http://www.prmuseum.org/blog/2015/11/17/mary-margaret-mcbride-the-first-lady-of-radio.
Mitchell-Kernan, Claudia, and Jacqueline Reid-Walsh. Girl culture: an encyclopedia.
Greenwood Press, 2008.
Spencer, Stephanie. Gender, work and education in Britain in the 1950s. Palgrave, 2005.
The Cherry Ames Page: Sue Barton,
web.archive.org/web/20120213171530/http://www.netwrx1.com/CherryAmes/suebarton.html.